Available 24 hours a day, 365 days a years. Please contact (908) 852-1300 if you have a medical emergency.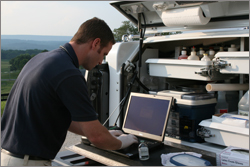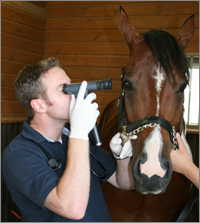 Preventative Health Management & General Medicine
East Coast Equine Veterinary Service provides first rate veterinary care on the farm for routine general medicine and emergency needs. Preventive medicine and routine patient care, including, but not limited to, vaccinations, deworming, dentistry, wellness exams, digital Coggins tests (this includes your horses photos and can be emailed anywhere at any time), and digital health certificates (these too can be emailed anytime, anywhere), are performed regularly.
Pre-purchase examinations, lameness evaluation, dermatologic evaluation, and ophthalmic evaluation may also be performed on the farm.
Comprehensive Nutritional Evaluations
The Comprehensive Nutritional Evaluation service will evaluate the current diet and if required, formulate a recommended diet based on the information gathered about your equine's health and activity level. ECEVS will compile a customized nutrition program tailored to meet your horse's individual needs. Specialized rations can also be devised for horses prone to metabolic conditions, laminitis, and Cushing's disease.
Nutritional Evaluations Include:
Prior to the important investment of purchasing a new horse, a complete pre-purchase examination is recommended. The format can be tailored to your specific needs, but involves at the minimum a thorough physical examination from head to tail which includes an ocular, neurologic, lameness, and cardiac examination.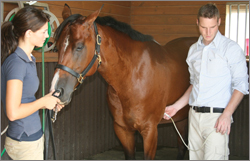 Digital radiographs are encouraged to establish a baseline of skeletal changes. Blood work, reproductive exams, EKG, ultrasound exams, and upper airway endoscopy are also among the ancillary procedures available.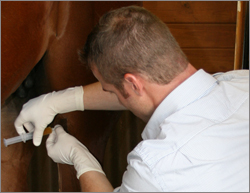 Sports Medicine and Lameness Evaluations
Noticing lameness – or any abnormality in your horse's gait – is troublesome for all horse owners. All of us want immediate information about how the lameness can be resolved. Lameness is most often noted in a horse's muscle, joint or bone, and soft tissue structures. Some lameness's are easily diagnosed by history or presentation; others require progressive evaluation including palpation, joint flexion, diagnostic nerve/joint blocks, digital X-rays, ultrasound, and other diagnostic procedures.
Our state of the art equipment allows for the accurate evaluation of bone abnormalities and soft tissue injuries including arthritis, bone chips, and tendon and ligament strains and injuries. During the exam, digital images are portrayed instantly so that you and the doctor can confer immediately.
Castrations and Minor Field Surgeries
We perform minor surgeries in the field such as castrations, laceration repair, caslick procedures, and biopsy sampling. If more extensive surgery is required, we will refer you to a referral equine surgical hospital.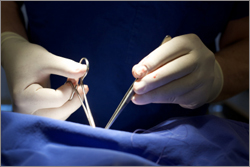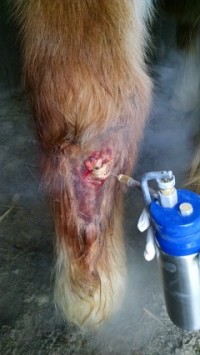 Cryosurgery is the use of a controlled stream of liquid nitrogen to freeze skin masses on the horse. This is a fairly non-invasive way to treat various skin cancers where surgical resection is difficult or dangerous. The horse is sedated and the area anesthetized with a local anesthetic. A small cone or shield is positioned over the mass and a concentrated spray of liquid nitrogen applied to the area. It is then allowed to thaw and the procedure repeated three times. As the mass freezes and thaws the water inside the tumor cell crystalizes and ruptures the cell, killing it. One specific advantage is that tumor tissue extending beyond the visible margin is also destroyed. Cryosurgery can also be used as an additional treatment combined with surgical debridement and local chemotherapy to treat squamous cell carcinoma, equine sarcoids, and mast cell tumors.
Dentistry has been progressing furiously the last few years. Better equipment and understanding of the equine mouth have helped veterinarians provide a much needed improvement in dental service delivery. East Coast Equine utilizes motorized equipment as well as traditional hand tools in this function. Sedation and radiology are used as needed to provide more comfort and better diagnosis for your horse's dental needs.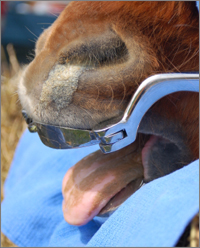 East Coast Equine Veterinary Service provides reproductive services including: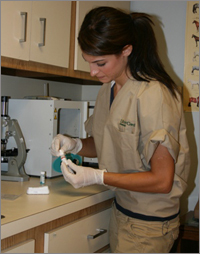 We are available to assist you in your endeavor to have a live healthy foal from its conception through weaning.